Rhonda Vincent & The Rage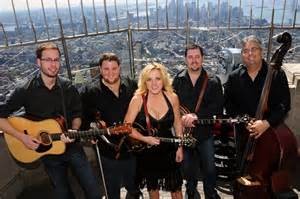 Saturday, April 29, 2017, 7:30pm
With over 80 awards, 5-time Grammy nominee Rhonda Vincent–crowned "The New Queen of Bluegrass" by the Wall Street Journal–leads the most honored  band in bluegrass music.   Rhonda has won 7 straight Female Vocalist of the Year awards from the IBMA, plus Entertainer of the Year in 2001; she also took home SPBGMA Entertainer of the Year honors 5 times running between 2002 and 2006.  Her music incorporates savvy contemporary touches while drawing deeply from the authentic traditions of classic bluegrass, with a flawless band that can execute breakneck instrumentals to heart-wrenching ballads.  She is also know to make a mean ragin' cornbread! Don't miss the chance to join us when the legendary Martha White Bluegrass Express tour bus rolls in to Mocksville for an epic one-night-only performance.
Adult: $33
Student / Senior: $32