The Monster Who Ate My Peas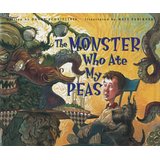 Sunday, March 26, 2017, 3:00 pm
ArtsPower National Touring Theatre's newest original musical theater production, brings a fresh meaning to the well-known phrase: "It's not easy being green."  At least, if you're a kid with a plateful of unwanted green peas.  This musical is based on the book by Danny Schnitzlein and illustrated by Matt Faulkner.  It follows the daily dinnertime dilemma that our hero, Danny, must face: eating his peas!
General Admission: $8.50