We are pleased to announce our new arts programs for children.  One of the major additions is hosting performances on the Brock Performing Arts stage for kids in grades K-7–and for their adult friends as well!  This series affords young people the opportunity to experience their favorite stories coming to life!  Each performance is an entertaining adaptation of a beloved family classic that parents and grandparents will want to share with the children in their families.
The other big addition?  We now have the  space to offer art classes at the Brock.  These classes will be available for all age groups and we look forward to being able to offer these hands-on art experiences to our community.  Great things are happening at The Brock!  Please scroll down to see our current Class offerings.
Click Art4Kids to purchase your tickets online, or you may come by or call our Box Office @ 336-751-3000 to order.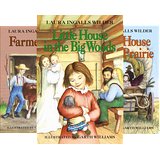 Saturday & Sunday, February 4 & 5, 2017, 3:00 pm
This literary classic is loved by all ages!  Laura and her family travel across America in search of a place to call home.  Facing obstacles such as scarlet fever and eviction from their land, their pioneering spirit and family bonds are tested but never broken. This uplifting story of one of America's most beloved authors come to life in this popular musical. Recommended for kids in grades 2-6.  Approximately 1 hour.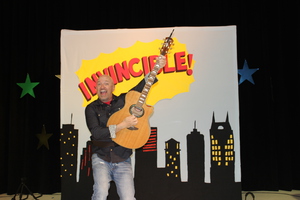 Sunday, March 5, 2017, 3:00 pm
It's a bird!  It's a plane!  NO!! It's the power of the brain!  This show encourages and empowers young superheroes everywhere to solve the problem and save the day by using the greatest superpower of all: imagination!  Roger Day returns to the Brock with his newest project–a sequel to his popular Dream Big! concert and CD.  Invincible is a collection of new songs and young characters using their brain power, courageous spirit, reading , and imagination to solve problems and make a difference in the world. A two-time Parents' Choice Gold Award winner, Roger Day entertains thousands of kids and grownups alike each year from the Carolinas to California with his smart, interactive brand of music.  His songs have been featured on Radio Disney, Sirius/XM's KidsPlace Live and Public Television.  Recommended for kids in grades K – 6.  Approximately 1 hour.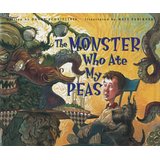 The Monster Who Ate My Peas
Sunday, March 26, 2017, 3:00 pm
ArtsPower National Touring Theatre's newest original musical theater production, brings a fresh meaning to the well-known phrase: "It's not easy being green."  At least, if you're a kid with a plateful of unwanted green peas.  This musical is based on the book by Danny Schnitzlein and illustrated by Matt Faulkner.  It follows the daily dinnertime dilemma that our hero, Danny, must face: eating his peas!