We are pleased to announce our new arts programs for children.  One of the major additions is hosting performances on the Brock Performing Arts stage for kids in grades K-7–and for their adult friends as well!  This series affords young people the opportunity to experience their favorite stories coming to life!  Each performance is an entertaining adaptation of a beloved family classic that parents and grandparents will want to share with the children in their families.
The other big addition?  We now have the  space to offer art classes at the Brock.  These classes will be available for all age groups and we look forward to being able to offer these hands-on art experiences to our community.  Great things are happening at The Brock!  Please scroll down to see our current Class offerings.
Click Art4Kids to purchase your tickets online, or you may come by or call our Box Office @ 336-751-3000 to order.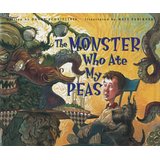 The Monster Who Ate My Peas
Sunday, March 26, 2017, 3:00 pm
ArtsPower National Touring Theatre's newest original musical theater production, brings a fresh meaning to the well-known phrase: "It's not easy being green."  At least, if you're a kid with a plateful of unwanted green peas.  This musical is based on the book by Danny Schnitzlein and illustrated by Matt Faulkner.  It follows the daily dinnertime dilemma that our hero, Danny, must face: eating his peas!